May 23, 2013
I haven't updated the site in a while but wanted you guys to know that I am still very much collecting.
Some updates on the ShaquilleCollection:
I've been picking up random Shaq singles via COMC.com. This website affords me to increase my total card count without having to pay a lot for shipping. To date, I have purchased over 400+ unique Shaq cards on the site!
I'm also getting close to my 200th Exquisite Base Card, they've almost dried up and tripled in price but I'm still hunting them down. If you have any, please let me know!
With that said, I have slowly pieced-out my more valuable non-Exquisite Shaq cards to fellow Shaq collectors. If you are interested in anything on the site, Please let me know and we'll figure something out.
Thanks! 
December 03, 2010:
 A couple of months ago, a card surfaced that I really wanted and I went hard for it.. Only to find out that its fake.

Well, long story short. The authentic card recently pops up and I'm lucky enough to snag it. Cost me a pretty penny but I've always wanted one in his Laker uni.
 This one will be in the PC for a very very long time!
 J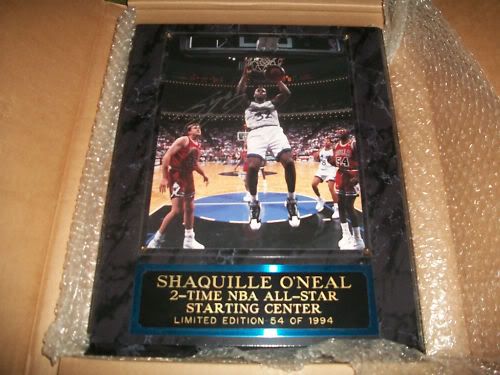 ust acquired this limited edition plaque. These retailed for over $150 back when it was released by QVC and came with original receipt.
 August 22, 2010:
The new centerpiece to my collection, this dual logo of Shaq/Lebron came from Panini's highest end product, National Treasures. The card features Cavs Tags for both players and is numbered 1/1!
Here is a framed autographed 18x20 photo of Shaq. It is another limited piece and is numbered 180/200 and comes with a COA from ScoreBoard Inc.
June 26, 2010:
#111 is here!


Just received my 111th Exquisite base card. I have more incoming but figured it would be nice to take a picture of what I have at the moment. Thanks for everyone who helped!
And finally added an autographed ball to my collection, this comes with letter, COA and stand from ScoreBoard Inc!
May 30, 2010:
 Added two new items to the Memorabilia Section.
Here's a very nice collection of autographs from the 09-10 Cavs team. Auto's include coach Mike Brown, Anderson Verajao, Antawn Jamison and Shaq among others.
This is the actual shoe that Reebok sent to retailers during Shaq's rookie year back in 1992. It is size 20 and fitted to Shaq's shoe size at the time!
May 09, 2010: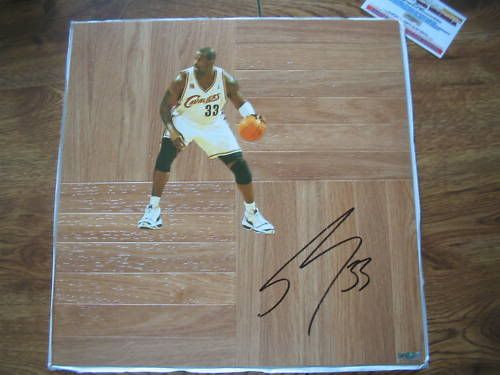 I've always wanted to get Shaq memorabilla featuring him in his Cavs uniform.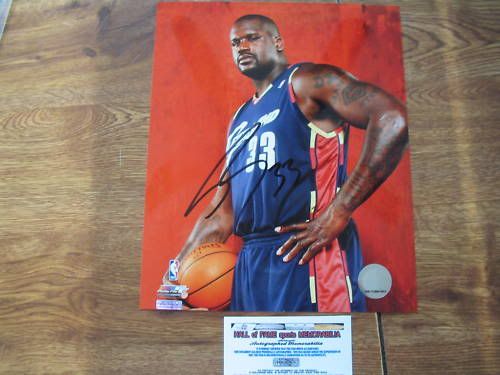 Grabbed these two unique pieces. You can see all my Shaq memorabillia HERE. 
April 30, 2010:
 Just picked up this autographed Sports Illustrated cover
.
View it up close in the Memorabilia Section, right HERE.
April 25, 2010:
Just purchased this 1/1. I was really interested about the set and when I saw the checklist, this was the card that I singled out to be a must-have.
Although the design of the cards need some work, I'm happy to grab a 1/1 of one of the greatest duos of all time.
 View my One of Ones HERE.
April 05, 2010:
Two new updates for today.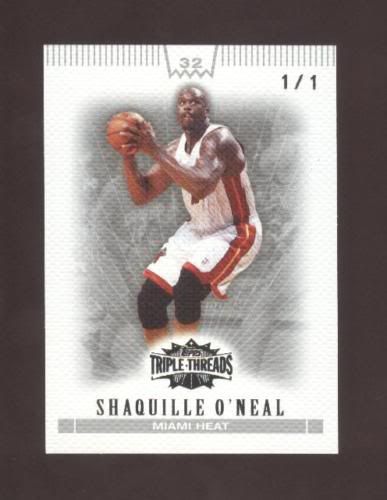 First, I just picked up this new card. That gives me ten 1/1s!
View my list of One of Ones HERE.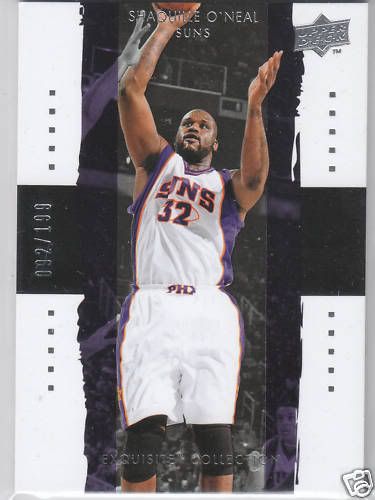 Also got this other other card. What makes it special? It's my 100th Exquisite Base!
View my entire Shaq Exquisite Collection HERE.
April 04, 2010:
Made a list of my Top 10 Shaqs and here's a preview:
 "1. Autographed L.A. Lakers jersey 34/34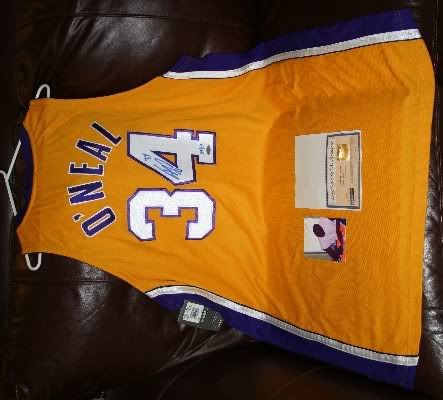 I picked this item up back in 2008 as a Christmas gift for myself. The size of the jersey is the actual size Shaq wears in his games. It also has a special military ribbon in the front which meant a lot to me since I am part of the military. The numbering on the jersey just made the item a must have for me as it was the last one made! (34/34) The jersey came with a picture when Shaq was signing it and a Certificate of Authenticity from Steiner Sports."
 View the complete list
HERE
.
April 03, 2010:
Picked up this Exquisite card recently, which gives me three Logoman/ Logo Tag cards.
See them HERE.